Beepollen is one of the richest and most complete foods in nature. It's an extraordinary food that helps maintain a balanced diet and a source of proteins, vitamins (E, B1, B2 and B9) and minerals (Cu, Mn and P). Our pollen is 100% Spanish, which is considered to be the best pollen in the world thanks to its extraordinary organoleptic qualities: flavour, texture, aroma and colour.
Beepollen is collected by bees when they land on flowers. They carry it away and moisten it using nectar from the flower to create small granules.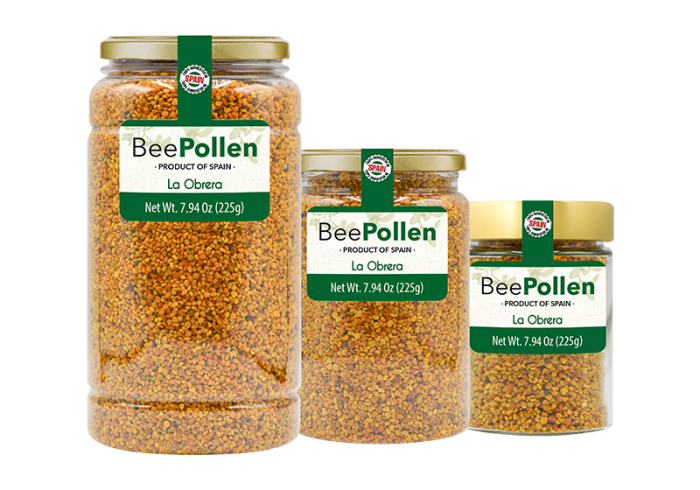 BECAUSE OF ITS HIGH PROTEIN CONTENT AND THAT IT CONTAINS ALL THE ESSENTIAL AMINO ACIDS FOR THE ORGANISM, BEEPOLLEN SHOULD BE TAKEN DAILY AS A NUTRITIONAL SUPPLEMENT. TRADITIONALLY IT HAS BEEN USED FOR ITS TONIC AND VIGORIZING PROPERTIES, WHICH HELP INCREASE BOTH PHYSICAL AND MENTAL RESISTANCE
Beepollen is nature's nutritional treasure trove:
     · Source of proteins: help to increase and preserve muscle mass
     · Source of Omega-3: helps maintain normal cholesterol levels. Beneficial effect are seen with a daily intake of 2g of Omega 3
     · High vitamin B1 (thiamine) content: contributes to the normal functioning of the heart
     · High folic acid content: contributes to the growth of maternal tissues during pregnancy
     · High vitamin B3 (niacin) content: helps reduce tiredness and fatigue
     · High manganese and phosphorus content: contributes to the maintenance of bones
     · High vitamin E content: protects cells against oxidation damage
     · High copper content: contributes to the normal functioning of the immune system
     · High fibre content
At present we are the leading Spanish beepollen supplier. We produce approximately 300,000 kilos a year with more than 75% destined for export. Our pollen processing facilities and technology have been designed by the company itself, producing innovative pollen processing equipment that ensures the highest quality of the final product. At Primo Mendoza S.L. we offer you the option of packing beepollen carrying your own branding and with the packaging you choose.